While Obama calls out 'so-called grown-ups,' Trump administration takes a victory lap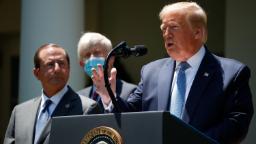 "Thanks to the President's historic response efforts here and the collaborative work of governors and heroic health care workers on the frontlines, we are in a position to reopen," Azar said.
"All those adults that you used to think were in charge and knew what they were doing? It turns out that they don't have all the answers," the former President said during Saturday night's
special broadcast
of "Graduate Together: America Honors the High School Class of 2020." "A lot of them aren't even asking the right questions. So, if the world's going to get better, it's going to be up to you."
The contrast of Obama's sharp critique and Trump's vigorous efforts to reshape the narrative about his administration's haphazard response to the virus offered a preview of the arguments the two sides will make in the general election campaign. Obama is increasingly stepping off the sidelines to become a forceful advocate for his former vice president, Joe Biden, while Trump and his allies risk sounding tone deaf as they herald the response at a time when American deaths are nearing six digits.
A risky approach to reopening
When CNN's Jake Tapper noted the American death toll — saying that "the US has less than 5% of the world's population but has 30% of the world's officially reported coronavirus deaths" — Azar pointed to the high level of complicating medical factors like obesity, hypertension and diabetes in the United States: "Every death is a tragedy, but the results could have been vastly, vastly worse," he said.
"The response here in the United States has been historic to keep this within our health care capacity," Azar added.
"If you're in an area that has ongoing community spread of disease, there are steps you should take," Azar said. "We count on local leaders to implement and interpret that according to the local situation. But we've got to get this economy and our people out and about — working, going to school again, because there are serious health consequences to what we've been going through."
"As we've basically locked down our hospitals for everything but Covid, women haven't been getting mammograms or cervical examinations for cancer. We haven't been able to do other procedures for the heart or the kidneys. And that's going to kill people as well," Navarro said Sunday. "So if you contrast like this complete lockdown — where some of the people in the medical community want to just run and hide until the virus is extinguished — that's going to not only take a huge toll on the American economy, it's going to kill many more people than virus, the China virus, ever would."
Another Friday night firing
"This President thinks he's above the law, he is above criticism. He wants to get away with anything that he can, and he does not understand that in the function of government you have a Congress, you have inspector generals who say, by the way, Mr. President, what you're doing is wrong, and it may be illegal. This has been his modus operandi from day one," Sanders said.
But if that is true, only a few have spoken up, including Grassley, Romney and Republican Sen. Susan Collins of Maine.
"I don't know whether they're going to provide any more robust rationale for doing it," Johnson said. He also said he and Grassley had a "real problem" with Linick's "responsiveness" to one oversight request, though he did not provide any more detail.
In a statement Saturday, Grassley said the President was required to provide lawmakers with a written explanation for removing inspectors general and said, "a general lack of confidence simply is not sufficient detail to satisfy Congress."
Annie Grayer and Sarah Westwood contributed to this story.