University of Delaware says it still has no plans to release Biden's Senate papers as pressure mounts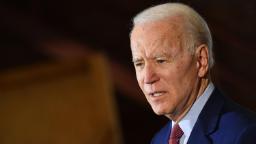 The University of Delaware said in a statement provided to CNN that the school is still "curating the collection" and the process is not expected to end until well into 2021. And even after the curation is finished, a spokeswoman for the school told CNN, the school would not release the papers until two years after Biden retires from public life.
"The University of Delaware received the Biden Senatorial Papers as a gift from Vice President Biden. We are currently curating the collection, a process that we estimate will carry at least into the spring of 2021," spokeswoman Andrea Boyle said in the statement. "As the curating process is not complete, the papers are not yet available to the public, and we are not able to identify what documents or files can be found within the collection."
A source with knowledge of the curation process told CNN Thursday night that there are no personnel papers at the University of Delaware.
"The University of Delaware files are his personal papers and personnel records are in the National Archives," the source said.
The university has been closed since mid-March amid the Covid-19 outbreak.
Those colleagues have told CNN and other media outlets that such harassment complaints were never leveled.
Since Reade came forward with the claim, there have been calls for records from Biden's time in the Senate given to the University of Delaware to be released to the public.
The Biden campaign declined to comment on the calls for the records' release. It referred CNN to a statement previously released by deputy campaign manager Kate Bedingfield denying Reade's assault allegation.
"Vice President Biden has dedicated his public life to changing the culture and the laws around violence against women. He authored and fought for the passage and reauthorization of the landmark Violence Against Women Act," Bedingfield said. "He firmly believes that women have a right to be heard — and heard respectfully. Such claims should also be diligently reviewed by an independent press. What is clear about this claim: it is untrue. This absolutely did not happen."
These papers have emerged as central to the discussions about Reade's allegation against Biden.
"These could contain confirmation of any complaint Ms. Reade made, either through official congressional channels or to the three other employees she claims she informed not specifically of the alleged assault but more generally of harassment," the editorial board wrote. "They could also contain nothing of the sort. Insisting on an inventory doesn't mean one believes Ms. Reade or doesn't believe her. It signals only a desire for the public to know all that's able to be known, which ought to be in everyone's interest."
Dennis Toner, who was Biden's deputy chief of staff at the time and one of the people Reade said she had discussed her complaints with, told CNN in an interview on Thursday that he had no recollection of Reade or any conversation related to sexual harassment allegations.
"I clearly would remember if we — that is, if Tara and myself — had any kind of conversation regarding sexual harassment allegations, let alone something involving Sen. Biden. It would stick in my mind. It would be burned in my mind," Toner said. "I don't understand it."
Asked what he thinks might be in the trove of paperwork at the University of Delaware, Toner said he has no reason to believe that there would be detailed personnel papers in the mix. And if there is any documentation in the mix related to Reade, he believed that it would at most address that "Tara had taken it upon herself to leave the staff," he said.
"What could perceivably be there? A report from whatever office Tara claims to have reported this to but yet, that office — no one — has come forward with any document whatsoever?" Toner said. "It's politics, period."
Reade has said that she filed a complaint with a personnel office on Capitol Hill at the time, but that she does not have a copy of it. It is unclear what kind of complaint — and at what office — Reade may have filed.
The New York Times reported that it had been unable to locate any such document.
Marianne Baker, who was Biden's executive assistant in the 1980s and 1990s when Biden was a senator, also previously said in a statement provided through the Biden campaign that she was never aware of any reports of inappropriate conduct, including from Reade.
"In all my years working for Senator Biden, I never once witnessed, or heard of, or received, any reports of inappropriate conduct, period — not from Ms. Reade, not from anyone. I have absolutely no knowledge or memory of Ms. Reade's accounting of events, which would have left a searing impression on me as a woman professional, and as a manager," Baker said. "These clearly false allegations are in complete contradiction to both the inner workings of our Senate office and to the man I know and worked so closely with for almost two decades."