Ultra-Slim Desktop Keyboards : Nimbleback LK-301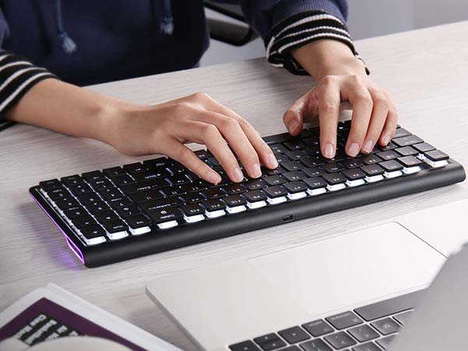 Mechanical keyboards are often associated with a thicker design compared to other peripherals on the market, but the Nimbleback LK-301 Bluetooth mechanical keyboard has been created to change this. The keyboard has an ultra-slim design that will still deliver a satisfying tactile feedback that typing purists have come to expect from their favorite mechanical peripherals. The unit features a 96-key layout that boasts LEDs underneath that will work to make it far easier to type in low-light environments.
The Nimbleback LK-301 Bluetooth mechanical keyboard has a 1,000mAh rechargeable battery for wireless use or can be used with a wired connection. The peripheral speaks to the increased demand for comfortable keyboard designs as consumers spend more time typing for business or leisure than ever before.