Small business owners in hardest-hit states were less likely to get relief loans, study shows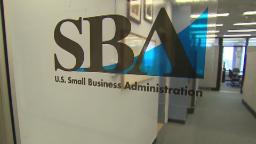 Their research shows that in New York, for example, fewer than 20% of all small businesses in the state were approved for a loan during the Paycheck Protection Program's first round. But 55% of small businesses in Nebraska were approved.
The program was set up by Congress without geographic restrictions on who could receive the money. Applicants submitted a self-certification of need and had to have a total payroll of fewer than 500 employees.
The New York Fed economists found small business owners were more likely to be approved for loans if they had pre-existing relationships with community banks.
While the Paycheck Protection Program approves loans on a first-come, first-served basis,
lenders have prioritized
those from borrowers they already have business with.
The New York Fed economists warned that their analysis is preliminary and acknowledged that the number of coronavirus cases per capita and unemployment claims are imperfect ways to measure the impact of the virus. There could be other factors at play, like the strictness of the state's stay-at-home orders.
The emergency loans were meant to help business owners continue to pay their employees and their overhead costs in order to stay afloat for the next two months. The loan will be forgiven if the funds are used to pay those kinds of expenses.
Only one loan is permitted per business. They are made in an amount equal to two-and-a-half months of average monthly payroll costs in 2019.