Fact check: Trump makes a bunch of false claims after event about protecting seniors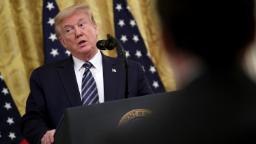 Asked about his previous compliments for China's response to the virus, Trump falsely suggested that the compliments had all come before the virus arrived in the US and before he had finalized a trade deal with China. And he dubiously suggested that he had quickly solved coronavirus testing problems, though many public health experts say he was slow to react and that the country is still far from a sufficient number of tests.
Trump repeated some old favorite inaccuracies about his travel restrictions on China and Europe (they weren't full bans), trade with China (it's not true that the US had never previously received any money from China) and the Veterans Choice health care program (President Barack Obama, not Trump, signed it into law).
Trump also made a subjective claim that the US's per capita coronavirus death numbers are "very strong." The US does not have the worst numbers in the world, but it has done far worse than some other countries — including South Korea, which had its first confirmed case right around the same time in January.
Trump claimed again that South Korean President Moon Jae-in had called him to compliment the administration's work on coronavirus testing and then said, "The testing and the masks and all of the things: We've solved every problem. We solved it quickly." Moon's administration told CNN that it would not discuss the contents of their conversations.
Fauci, director of the National Institute of Allergy and Infectious Diseases, made clear that it is not a certainty that even this timeline will be met. He said: "That's what I'm being told by the people who are responsible for the testing. I take them for their word. If that doesn't happen, I'm going to go to them and say, 'What happened here, why didn't it happen and how can we fix it?' "
Trump's compliments for China
When CNN chief White House correspondent Jim Acosta asked Trump about the fact that he had previously been complimentary of China's response to the virus and asked Trump what has changed since then, Trump invoked his trade negotiations with China.
During the negotiations, Trump said, he was complimentary of China, though he was also sometimes not. But after he made the deal, he continued, "All of a sudden, we heard there's a virus, and a virus is coming in. That changes my mind very greatly. That's a whole different thing."
When another reporter followed up later in the event, Trump said, "Well, I'm making a trade deal with China. This was before the virus — of course I'm going to be complimentary." He said that "the bottom line is, we ended up making a deal before the virus came, and I was very happy with the deal, but then later on, that was superseded by a virus that should not have happened."
For example, speaking to reporters on February 18, Trump said, "I think President Xi is working very hard" and "doing it very professionally." Asked if he trusted data coming from China, Trump praised Xi Jinping again: "Look, I know this: President Xi loves the people of China, he loves his country and he's doing a very good job with a very, very tough situation."
Speaking to reporters on February 23, Trump was asked if Xi should be doing anything differently in his handling of the crisis. He responded: "No, I think President Xi is working very, very hard. I spoke to him. He's working very hard. I think he's doing a very good job. It's a big problem. But President Xi loves his country. He's working very hard to solve the problem, and he will solve the problem. OK?"
Death totals
Trump asserted that compared with other countries, the US has a "very strong" number of coronavirus deaths per million people.
"Our death totals, our numbers, per million people, are really very, very strong. We're very proud of the job we've done," the President said.
Facts First: The US has 192 reported coronavirus deaths per million as of Thursday evening. While that's not the most recorded coronavirus deaths per million, it also not the least. Countries including Belgium, Spain and Italy have had more deaths as a percentage of population, while countries including South Korea, which had its first confirmed case around the same time as the US, have had far fewer. (It's important to note that there are questions about the accuracy of figures from countries around the world, both because of suspicions of data manipulation by countries like China and because early death counts are imprecise.)
Travel restrictions on China and Europe
Trump once again said his administration put a "ban" on China and Europe, using the travel policies as his primary defense against criticism of his response to the pandemic.
"As you know, very early on in January, we put the ban on in China," he said Thursday, before adding, "Then we later put the ban on in Europe."
Facts First: Trump's characterization of these travel restrictions as a "ban" is misleading because both policies contained multiple exemptions, including for US citizens and permanent residents; the Europe policy exempted entire countries. Only foreign nationals who had been in China, Europe's Schengen area, the UK or Ireland within the past 14 days were outright banned from entering the US. And while the travel restrictions on China were announced at the end of January, the regulations did not go into effect until February 2.
Tariff revenue and China
Touting his trade policy with China, Trump repeated a regular false claim that until he took office, "China never gave our country anything. China gave us nothing. Not 10 cents."
Veterans Choice
Discussing efforts to help veterans and senior citizens, Trump again claimed credit for the passage of the Veterans Choice health care program.
With Veterans Affairs Secretary Robert Wilkie in the audience, the President said: "And we are being helped very greatly by the passage of all the things that we got passed, Robert, especially Choice, so that people can go and see their doctor when they have to and especially our seniors."