Employee Contact-Tracking Tools : Employee Contact Tracing Tool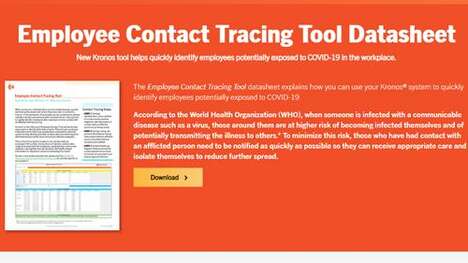 Being able to pinpoint who an employee has had contact with in the midst of the COVID-19 pandemic is imperative to help prevent spread, so Kronos Inc. has announced the new employee contact tracing tool to help with this. The new utility is available on the Kronos Workforce Dimensions, Workforce Central, Workforce Ready and iSeries Central platforms at no additional cost to customers. Employers will be able to easily analyze their records and generate a data-rich tracing report to pinpoint everyone who might have had contact with an employee who has fallen ill.
The employee contact tracing tool from Kronos Inc. is part of the use of technology platforms to help curb virus spread and allow employers to practice preventative tactics as they begin to resume business.