Creative Polyrhythmic Analog Synthesizers : Subharmonicon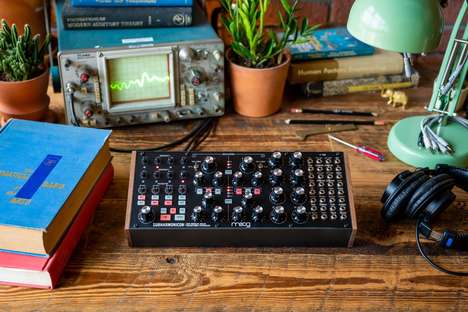 Expanding on its family of renowned analog synthesizers, Moog Music has released the Subharmonicon, a semi-modular polyrhythmic desktop synthesizer.
Styled similarly to Moog's Mother-32 and DFAM products, the synth comes packaged in a 60HP Eurorack format with the brand's signature industrial black and chrome aesthetic, along with aluminum rails and finished wood side pieces.
The Subharmonicon's main features include two VCO's, four Subharmonic Oscillators, two 4-step sequencers and four Rhythm Generators. For even greater versatility, the unit incorporates a 32-point 3.5mm patchbay for internal routing as a standalone instrument, as well as external routing to any of Moog's semi-modular instruments and other external Eurorack-compatible gear.
Drawing inspiration from the experimental music scene in the 1930s and 40s, the Subharmonicon integrates two analog innovations from the time, the Mixtur-Trautonium and the Rhythmicon, for their theories on subharmonic undertones and harmonic polyrhythm generators. By incorporating these elements, the synth achieves its own unique sound and pattern characteristics.
Moog showcased the Subharmonicon by partnering with American producer Suzanne Ciani and visual artist Scott Kierman for a short film, titled 'Music as Living Matter,' which explores the historical inspiration behind the instrument.
The Subharmonicon analog synthesizer is now available worldwide to order through Moog Music's designated dealers.
Image Credit: Moog Music